ZAM visited BioWare Austin to play through expansion content such as Makeb and more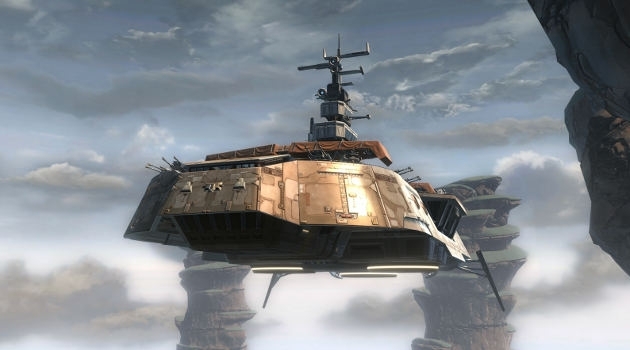 Content with the Content?
If you are a fan of SWTOR's style of story telling, then RotHC offers plenty to sink your teeth into. The narrative design (that's writing to you and me) is strong and the voice acting combines with regular cinematics to spin an absorbing tale once you are knee deep in all the skullduggery.
As we slew the various local villains and wildlife on our journey (the Hulking Vrakes looked cool, scampering on all fours with their wings and surly dispositions) achievements would appear. The breadth of them is quite mind-boggling, with over 2200 available, not including the hidden achievements.
Achievement notifications popping up regularly, due to our supreme efficiency in dispatching any enemies that wandered into Force lightning range, and completing certain missions offered titles. We were given an example by one dev that taking down the world boss Lucky, would give two different title possibilities. Get beaten down by Lucky and you earn the title "Unlucky," defeat him and become "the Lucky."
I can envision role players particularly seeking out titles to suit their character needs and there seems to be plenty to choose from.
As one would expect, loot dropped in plentiful amounts, but as we were very well geared, very little of it compared favorably to what we were wearing. This does make me question how rewarding things will feel besides the story itself for those who have spent months at max level grinding out Operations and Flashpoints who will have to wait a while longer than one might expect to progress through the levels and begin to replace their gear.
As we progressed through the story some of the quests started to offer very good quality items, though much of it was for our crew members it seemed.
It was estimated, though also mentioned it was very difficult to be accurate, that there was around 35 hours of playtime in the PvE content on Makeb. The small amount that we played through was very solid with the quests building the notion that Makeb has suddenly become the center of the galaxy; its importance imparting your actions with urgency, making you the hero (or anti-hero) of grand events that will change the course of SWTOR's future.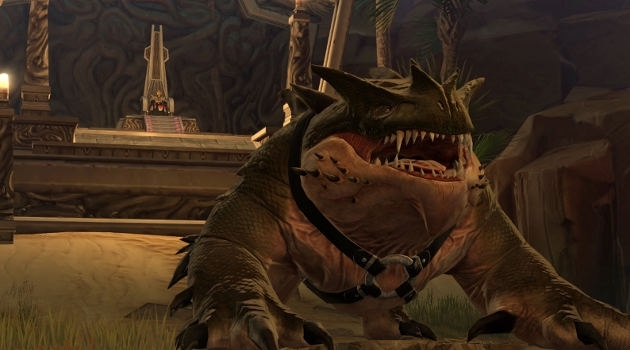 A Game of Hide and Seek
After a short break for refueling, I returned to my desk to find my character quickly level to 55 and ready to take part in one of the new mission types available with the expansion.
Through presentations led by Jeff Hickman and Bruce Maclean (who I chatted with about the expansion in the article here), we were introduced to the Seeker Droid missions. In the demo, we were told of the dangerous research facility known as Arcanum.
Among the dangers that Arcanum housed are the Seeds of Rage, which, when unleashed upon unsuspecting populations, drives all within range into a frothing frenzy. To find the Seeds and snuff out their influence, a Seeker Droid is bestowed on the player.
Heading to planets thanks to the "enhanced interrogation" of the Empire's traitor; you are dispatched with the Seeker Droid where you instruct it to scan when prompted on the screen that your robotic companion detects something of interest.
In the example I was shown, I saw Dread Seeded Rakghouls covering an area to which the Seeker Droid had led the explorer. These Rakghouls were apparently even less inclined to small talk than the untainted ones.
On your command, the Seeker Droid scans and, if the circular graphic turns green, you can find either a Seed of Rage or even loot, including epic items for yourself or upgrades to the Seeker Droid to make it more accurate.
As part of the story, you chase Lord Tigris through the Arcanum and he attempts to block your way by attacking you using the various methods of non-direct attack, including spawning tentacles to entangle and endanger. Tigris has been sowing these seeds and not only will you have to stop him, you will have to take care of the facility's guards, the escaping bestiary and the scaling difficulty depending on how many of you are grouped together.
Seeker Droid will be used not just for the Arcanum storyline but for a variety of Daily Missions, with it and the Macrobinoculars content streams intended to deliver quests in a different manner than those already available.
The new missions types are also intended to lead players into areas that they perhaps have not experienced yet; a logical way to get the best use of previously designed content, but with a new angle.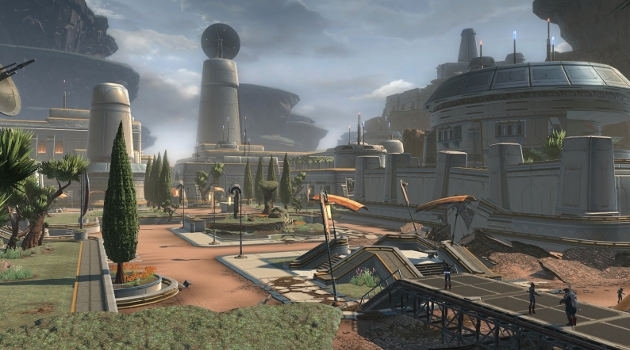 Seeing the World Through New Eyes
Though the Seeker Droid content was observed through a demo on the large video screen, I played with the Macrobinoculars myself.
On Dromund Kaas, I met up with Evie Bo, a former employee of the volatile and mysterious agent, The Shroud. Having turned on her former boss, she has informed the Empire of The Shroud's intent to launch attacks on the capital city itself.
I was given the Macrobinoculars, a viewing device which will be very familiar to Star Wars movie fans, in order to find monitoring towers planted by The Shroud around Dromund Kaas.
Off I went on my trusty speeder (which was rather cool by the way), hunting down clues via symbols on the minimap. Once at one of the locations, I whipped out my Macrobinoculars by clicking on the icon in the quest tracker. I scanned high and low until I found a tower then zoomed in and locked onto it. Once that was complete, I sped off to the next location and so on.
A fun added use for the new device became apparent after I was led to a large laser grid. This puzzle can only be solved with the aid of Macrobinoculars, seeking out weak spots in the defense system to help progress through the banks of lasers which would cut you in two with the merest touch (which I found out on a number of occasions).
It was a fun diversion that has a lot of scope (no pun intended, well, until now) to be developed further into more intricate designs to challenge and confound players as more content is added with the metronomic regularity that BioWare promises.
Farewell, with Arms
To wrap up the play test, I queued up for a Warzone and the journalists and some devs piled into Ancient Hypergates for a couple of knockdown, drag out battles.
The main reason was to test out PvP with the new 55 abilities, or so we were told, but in fact the most obvious difference was the number of new achievements that popped up as we fought with the brutality one would expect.
Achievements for defeating particular classes, achievements for defending, achievements for capturing points, there was a plethora of pop ups to inform that there is a hefty number for completionists to jump into, even in PvP.
After we absolutely dominated the opposition (sure, the one round was close but we were just lulling them into false hope before crushing their spirits under our boots), the event came to an end and we prepared to begin the interviews.
I sauntered around, chatting to a few different devs about the game and life in general and was struck by the complete passion that exudes from the team about the game. Of course, this is their baby, though they are very aware that it is also the cherished possession of the core fans.
Rise of the Hutt Cartel is a solid addition to SWTOR and there is plenty of content that devotees will enjoy. Whether it will return those who have left for new pastures and whether the max level group activities will absorb with similar strength to the story and missions, remains to be seen; but I enjoyed dipping my toe back into a universe of old myths and new hope.
RotHC is available for pre-order. If you do so before 4pm April 13, you can grab the title "Scourge of the Hutts," a Makrin Seedling Mini-Pet and the Dr Oggurrobb Hutt Holostatue.
Scott "Jarimor" Hawkes, Editor in Chief